Ant Exterminator Melbourne
Ant Pest Control Melbourne
Local family business protecting your family
Complete The Form Below And One Of Our Experts Will Call You Back
Melbourne's Professional Ant Pest Control Services
With their relentless search for food, ants can quickly become a nuisance in residential homes, organisations, and businesses. They follow established trails and cluster around food sources, causing disruption and annoyance. At RF Pest Management, we offer targeted pest control for ants specifically designed for different ant species. Our professional pest control technicians are skilled in quickly resolving ant infestations, ensuring the safety of people, pets, and the environment.


While there are numerous do-it-yourself products available for ants, achieving effective control requires the expertise of a professional pest control service to not only address the immediate problem but also prevent future reinfestations. Our experienced technicians possess in-depth knowledge of the habits and behaviours of different ant species. This understanding allows us to eliminate ants at their source, disrupting their colonies and preventing further infestations.
The Impact of Ant Infestations on Your Surroundings
Ants may appear harmless at first, but their presence can lead to various issues that can compromise the comfort, hygiene, and structural integrity of your property. Here's why effective ant pest control in Melbourne is crucial:
Professional Ant Pest Control in Melbourne
At RF Pest Management, we understand the unique challenges posed by ant infestations. Our highly skilled technicians are trained in the latest ant control near me techniques, ensuring a comprehensive and targeted approach to eliminate ants from your property.
Common Ant Species in Melbourne
Coastal Brown Ants
Coastal Brown Ants, or Sugar Ants, are small, light to dark brown ants commonly found along coastal regions. They are attracted to sugary substances and are known to invade kitchens and pantries in search of food. They usually nest outdoors, building shallow mounds in lawns or under rocks.
Argentine Ants
Argentine Ants are medium-sized, light to dark-brown ants that form large colonies. They are highly adaptable and known for their aggressive behaviour towards other ant species. Argentine Ants prefer moist environments and can nest near water sources, such as plumbing or damp soil.
Black House Ants
Black House Ants, also known as Common House Ants, are small, black ants frequently found indoors. They are attracted to sweet and greasy foods. These ants often nest in cracks and crevices around homes, walls, or gardens.
Green-head Ants
Green-head Ants, also known as Green Ants, are medium-sized ants with a distinctive metallic green colouration. They are aggressive and known for their painful stings. Green-head Ants typically build nests in trees or shrubs, constructing large, visible nests made of leaves and debris.
Funnel Ants
Funnel Ants, also known as Inch Ants or Meat Ants, are medium to large reddish-brown or black ants. They construct distinctive conical-shaped nests with a central entrance. Funnel Ants are commonly found in open areas, such as lawns or pastures, and are known for their aggressive behaviour when disturbed.
Bull Ants
Bull Ants are large, aggressive ants with a reddish-brown or black colouration. They have a powerful sting and can be territorial. Bull Ants nest in the ground, often in sandy or gravelly soil, and are commonly found in gardens, parks, or bushland areas.
Pharaoh Ants
Pharaoh Ants are small, light-brown ants known for establishing extensive colonies quickly. They are often found indoors, particularly in buildings with central heating. Pharaoh Ants are attracted to a wide range of foods and are known to be difficult to control due to their preference for multiple nesting sites.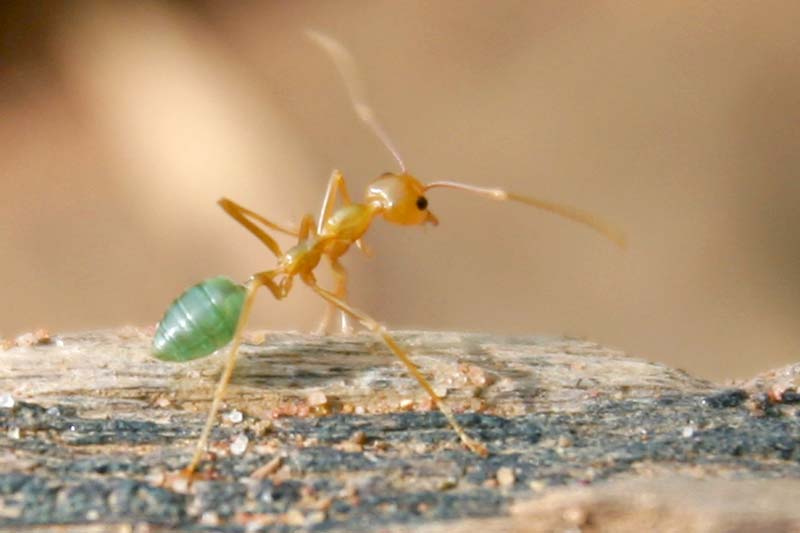 Carpenter Ants
Carpenter Ants are large ants that vary in colour from black to reddish-brown. They do not eat wood but excavate galleries within it to create their nests. Carpenter Ants are commonly found in areas with high moisture, such as damp wood or decaying trees. If left untreated, they can cause structural damage to buildings.
Ghost Ants
Ghost Ants are small ants with pale or translucent bodies, earning them their name. They are often found indoors, particularly in kitchens and bathrooms, as they are attracted to sweets and moisture. Ghost Ants form large colonies and can be challenging to control due to their small size and ability to nest in hidden areas.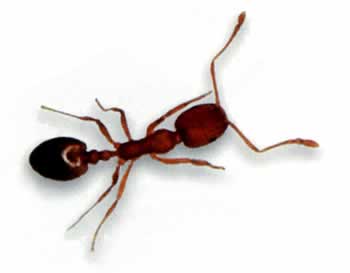 White-footed House Ants
White-footed House Ants are small to medium-sized ants with dark brown or black bodies and distinctive pale or yellowish feet. They commonly nest indoors in wall voids, behind baseboards, or under floors. These ants are attracted to both sweet and greasy foods.
Sugar Ants
This species exhibits a wide range of colour, size, and form variations. Its sizes, which vary from 2.5 to 15 mm, are those that are most frequently observed. Their colouring is vivid.
Whitefooted House Ant
The Whitefooted house ant is around 3mm long, dark brownish or black in colour, and has yellow-white feet.
Benefits of Professional Ant Pest Control & Ant Removal in Melbourne
Ants are common household pests that can quickly become a nuisance when they invade your property. While there are numerous DIY methods to deal with ant infestations, professional ant pest control in Melbourne offers several benefits that ensure effective and long-lasting results. Here are some of the main benefits:
If you are experiencing a pest problem, don't hesitate to contact RF Pest Management today for a free consultation. Our team will assess the issue and recommend the best course of action to eliminate your ant problem.
Additionally, we can help prevent future ant infestations by inspecting your home for potential entry points and providing guidance on sealing them up. We can also offer tips on maintaining a clean and ant-free environment by minimising food and water sources that attract ants.
Why RF Pest Management is a First Choice for Pest Control
Wondering why RF Pest Management is the preferred choice for countless homeowners and businesses in Melbourne? Here's what sets us apart and keeps our customers coming back for more:
Safe and Environmentally Friendly Ant Control Methods
At RF Pest Management, we understand that you want to keep your home safe and free of pests, but you also want to do it in a way that is safe for your family and the environment. That's why we use only EPA-registered products and take utmost care when implementing our ants exterminator near me in Melbourne methods. Our chosen products are not only effective in eliminating ants but also environmentally friendly and safe for use around your loved ones.
We follow industry standards and best practices to minimise potential hazards during the application process. Our technicians are well-versed in the proper use of the equipment and ensure that treatments are applied in a targeted manner, reducing the risk of unnecessary exposure.
We understand that your family and the environment are important to you, and we want to do our part to protect them. Contact us today to experience our reliable and sustainable ant control in Melbourne.
Contact Us for Reliable Ant pest Control in Melbourne
We understand the frustration and inconvenience that ant problems can cause, so we are dedicated to providing top-notch Ant pest control near me services. Whether you're dealing with common household ants or more stubborn ant species, we have the expertise to accurately identify the infestation and implement targeted treatment plans for efficient eradication.
Contact us today for expert ant removal in melbourne. Our team is ready to assist you, offering prompt and reliable solutions to keep your home or business ant-free. Request a quote by calling us at 0450 213 514 or emailing us at info@rfpestmanagement.com.au.
Wonderful service provided by the team, anyone out ther looking for the pest 🪳🦟 control job done just engage their service.
Dipjyoti Metia
July 5, 2023.
Very reliable friendly and respectful taking the time to explain the products used to exterminate rodent control with Q & A. Reasonable rates. Would use them again without hesitation.
Andra Sterling
June 6, 2023.
I called them in April to do mice treatment (mainly in the attic) with Saupry (apologies if I butcher your name) and after 1 month I finally sleep peacefuly. But since last week the activities in the attic are back and now I'm back to sleepless night. Not sure what to do or if there's any way to stop the mice from coming back. Then Saupry came back and help me more. He also explains some stuff I can do to stop the mice coming back. What a legend! They are the best people to do the job. 10/10! 👍👍👍
Very friendly and efficient staff. Gave good advice and was on time for the job
Autotech Victoria
May 24, 2023.
Djay was fast at responding to our initial request and attended the next day. He was great at communicating when he would arrive. He was very professional, got the job done quickly and tidied up. Once he was complete he explained everything, was very knowledgeable and gave good honest advice on other services we asked about. Highly recommend and will be using should we require any further assistance.
Kevin C & Alanna H
May 15, 2023.
Djay is very friendly! Always on time and ensures to get the job done correctly. I get my house treated every few months from the team at RF Pest Control. Couldn't recommend the team at RF Pest Control enough! Thanks again for your recent visit Djay you and your team are fabulous!
Super impressed with quality of service. I was able to get a same day appointment. Very friendly and knowledgeable with pests and the area. Highly recommend.
Kayla Crea
April 24, 2023.
Excellent service. Same day call out. Reasonably priced, very knowledgeable.
Theo Naidoo
April 16, 2023.
RF pest control is by far one of the BEST in Western suburbs. From the get go you feel that you are in the hands of a thorough professional! Djay will talk you through the complete process that helps you understand what you are paying for! He stands out from all the other pest control companies that I have contacted because he is the only one (that I am aware of) who offers a follow up visit to ensure that the treatment applied is effective. This is included in the very very reasonable price that he offers! He a reliable, passionate individual who will exceed your expectations on all aspects!
Very professional, too informative! We got big relief from the huge cockroach issue at our home, especially in our kitchen. It was unbearable, but RF pest management helped us with a high-quality and long-lasting pest treatment solution, Before and After photos below says everything. The communication and attention to detail were fantastic. They were unbelievable throughout the whole process, so, a big thank you for that and the price was as quoted - no surprises. Highly recommend using this business.
We had an issue with mice in our home so we found these guys online. They responded and turned up the same day and were quick to help. I highly recommend this local business. Very professional, friendly and extremely helpful. Dj you were awesome thanks again!
I contacted Djay to put some traps for rats and also needed him to inspect in and around house. He was absolutely on time and responsive to all communication. He also went over and above to put extra boxes for rats outside of house. After few weeks, he followed up twice and came to check at no extra cost.Very professional service by RF pest management. I would highly recommend their service.
We recently had pest issue with mice at our home. We found this Pest Management team online and contacted them. They were very responsive and we got the service on time. With a single visit and thorough work, we got rid of the mice. We highly recommend them for any kind of pest issues.
Amazing service, did an amazing job! Couldn't recommend them enough
Wonderful experience.great service highly recommend.regular follow up .responsible for the duties .
Very professional, I had consulted a few guys but RF responded immediately. He came on time and did the inspection first followed by eradicating the rats and spiders that were giving us so much trouble. He did call after to check if we haven't any issues. Can't recommend RF Pest enough.
Frequently Asked Question's
Our Process of Pest Control
Consultation for Pest Control
Consult a specialist right away if you see any indications of a pest infestation.

Site Inspection and Evaluation
A member of our Point Cook pest control team will do a comprehensive assessment of your property to identify the kinds of pests that are there, the extent of the infestation, and the locations of all access ways, feeding areas, and breeding grounds.

Pest Prevention and Control
Our pest control options are customized to meet your unique requirements. Any type of pest control in Point Cook may be carried out by our team of experts since they are qualified and licenced.

Report on documentation and pest control
After completing the pest control procedure, our staff will provide you with a report explaining the degree of the damage, and show you how to avoid having them invade your property again.
Best Pest Control After Care
Let's look at what you must do following the completion of the pest control service.
Quick pest control inspection
Why leave anything to chance when paying for a new or used property? Have a certified and experienced pest inspector evaluate your home carefully and make treatment recommendations for any pests they find. Point Cook residents can use our quick pest control inspection services. Order your inspection right away!
Pest Control Services Melbourne
Call us on 0450 213 514 Same Day Pest control Services
Location: Melbourne, Australia.