Hoppers Crossing Pest Exterminators
Pest Control Hoppers Crossing
Local family business protecting your family
Complete The Form Below And One Of Our Experts Will Call You Back
Professional Pest Control Hoppers Crossing
Are you scouting for dependable pest control in Hoppers Crossing? If yes, your search ends with RF Pest Management. It is a highly reliable and trusted pest control Hoppers Crossing and the surrounding suburbs. They have extensive knowledge of the local topography and can help you with customised pest treatment solutions for your residential and commercial properties.
RF Pest Management will carry out a comprehensive building pest inspection in Hoppers Crossing across your property to identify and document the kinds of pests, species, the level of infestation in each site, the damage to the property, and more. Using our state-of-the-art tools and techniques, we can spot even the slightest pest infestation on your property and help you put control measures in place. All reports on pest control inspections provide thorough findings, recommendations, and visuals to help you decide what action to take next.
Our affordable pest control treatment Hoppers Crossing are customized to the specifics of your problem. This includes the degree of the infestation, the kind of bug you have, and the amount of the property damage. RF Pest Management is a well-known Hoppers Crossing pest control company that offers building pest inspections. We guarantee to completely eradicate all pests from commercial and residential structures. Affordable options for effective insect control are available at competitive pricing across Hoppers Crossing.
Visit our website or connect with our experts to learn more about our pest inspection and prevention services in the area.
Why Opt RF Pest Management for Pest Control Hoppers Crossing?
With the spike in the development of residential and commercial properties in Hoppers Crossing, there has been a marked increase in the cases of pest infestation in the area. And residents are regularly calling in for pest prevention services for their properties.
But why the sudden spike in pest infestations?
The open grounds are home to several insects, small animals and more. However, with the rise in construction projects, these open lands are quickly disappearing, leaving these creatures homeless. These creatures, like rats, mice, wasps, spiders, etc., start inhabiting the most comfortable areas they can find, such as your homes and establishments.
However, these creatures seriously threaten your health, safety and the structural integrity of your property. Hence, it is crucial that when you notice these creatures regularly appearing in your home, it is time to call in a professional pest control Hopper's Crossing.
At RF Pest Management, we are a team of highly trained and qualified pest control Hoppers Crossing with experience in helping locals in the area address their pest treatment solutions. If you think there is a pest problem on your property, get in touch with us for highly innovative and sustainable solutions to deal with them.
Residential/Home/House Pest Control Hoppers Crossing
Our experts at RF Pest Management say that spotting a pest infestation early is the key to ensuring that it is dealt with efficiently without causing much damage to your property. But how do you find that you have a pest problem? The simplest way to do that is to observe some of the signs listed below:
If you have noticed at least one of these signs around your property, there is a good chance your house is infested with pests like rodents, termites, bed bugs, or more. And as a precaution, it is best to consult a pest control Hoppers Crossing at the earliest.
Pests in a household setting are more than simply an inconvenience. They can seriously harm your home's structure and put your family's health in danger.
At RF Pest Control, we place a high priority on your health and safety. We are committed to giving you outstanding service, which is why we provide pre-purchase pest inspections for new home buyers. We want to be able to see a little issue before it develops into a major problem.
To handle any amount of pest issue, we provide the best home pest control solutions in Hoppers Crossing. Your family will be able to sleep a bit better knowing that the best possible products will be used to address your bug problem.
Commercial Pest Control Hoppers Crossing
The commercial and industrial sectors of Hoppers Crossing run the danger of losing money and reputation due to difficulties with pest management. If you are the owner or manager of a Hoppers Crossing corporation or commercial property, this may even be more important. Protecting your money source is essential. To do this, a commercial pest management specialist performs regular pest inspections.
At RF Pest Management, your safety and good health are our top priorities. Hence, we employ highly precise, non-toxic, and non-invasive methods to address pest infestations on your property. Moreover, depending on the type of pest, severity of the infestation, your property's location, and the local topography, we use the latest tools and techniques to ensure minimal damage to your property.
Connect with us now if you think there is a pest infestation on your property. We will arrive at your location for a thorough pest inspection and based on our assessment, suggest efficient and lasting solutions to address the issue.

Offices

Airports

Shopping centers and Restaurants

Factories and Warehouses

State government facilities

Hotels and Motels

Hospitals and Child care schools

Food manufacturing

Logistics and Transport

Nursing home

Retail shop

Gym & Theatre

Restaurant

Medical Centre

Pub and Café

Warehouse
Why RF Pest Management is a First Choice for Pest Control
Wondering why RF Pest Management is the preferred choice for countless homeowners and businesses in Melbourne? Here's what sets us apart and keeps our customers coming back for more:
End Of Lease Pest Control Hoppers Crossing
Are you looking for pest control Hoppers Crossing end-of-lease? Since it is stipulated in the lease, pest control is essential once your house lease has ended. To get rid of any pests from your leased home, RF Pest Management Services offers excellent end-of-lease treatment at affordable prices.
A pest treatment at the end of the term is now a requirement for all leases and rental agreements. When animals deemed pests, like dogs or cats, are present, this occurs most frequently. Its major objective is to eradicate pests in order to prepare for the upcoming lease. All of our customers receive the best end-of-lease pest control Hoppers Crossing service possible from RF Pest Management. Contact us for more information and a free estimate. This solution is available from us at a very affordable cost.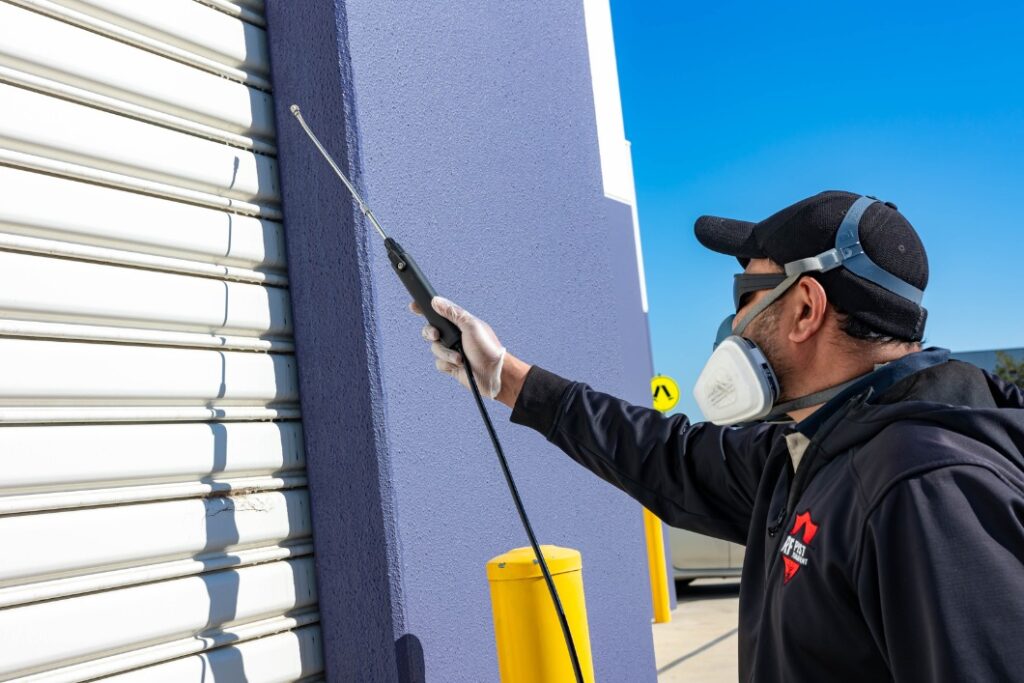 Certified Experts for termite control Hoppers Crossing
A termite infestation is more than just a common insect problem since, if unchecked, it may result in serious financial pressure for the home's owners and substantial property damage. These pests are challenging to get rid of from homes.
The treatment and management of various termite species in residential premises, business properties, and industrial sites is a specialty of RF Pest Management Hoppers Crossing. 
At your Melbourne property, we will do a thorough termite inspection, develop a personalized treatment plan, carry out a thorough termite control service, and provide you advice for maintaining termite control at your home.
Our Process of Pest Control
Consultation for Pest Control
Consult a specialist right away if you see any indications of a pest infestation.

Site Inspection and Evaluation
A member of our Point Cook pest control team will do a comprehensive assessment of your property to identify the kinds of pests that are there, the extent of the infestation, and the locations of all access ways, feeding areas, and breeding grounds.

Pest Prevention and Control
Our pest control options are customized to meet your unique requirements. Any type of pest control in Point Cook may be carried out by our team of experts since they are qualified and licenced.

Report on documentation and pest control
After completing the pest control procedure, our staff will provide you with a report explaining the degree of the damage, and show you how to avoid having them invade your property again.
Best Pest Control After Care
Let's look at what you must do following the completion of the pest control service.
Quick pest control Hoppers Crossing Inspection
Have a qualified professional pest inspector thoroughly check your property and offer treatment suggestions for any pests they discover. Residents of Hoppers Crossing may find our quick inspection services for pest control handy. Order your pest inspection now!