RockBank Pest Exterminators
Local family business protecting your family
Complete The Form Below And One Of Our Experts Will Call You Back
Professional Pest Control services in Rockbank
RF Pest Management recognizes the significance of maintaining the property pest-free, and that is why we offer a variety of reliable, efficient, and affordable pest control services in Rockbank. Pests may threaten your safety and health in your homes and offices, as well as create an uncomfortable living environment. 
Whatever sort of pest infestation problem your Rockbank home or business is experiencing, you can depend on us to provide effective pest eradication and pest prevention services.
. 
Our affordable pest control services are customized to the specifics of your problem. This comprises the intensity of the infestation, the pest species you're dealing with, and the amount of property damage. RF Pest Treatment is a well-known Rockbank pest treatment firm for building pest inspections. All pests are guaranteed to be eliminated from both residential and commercial properties. At an affordable cost, effective pest control options are available.
Residential/Home/House Pest Control in Rockbank
A licensed and professional pest control professional team works for RF Pest Management Melbourne. As experts in the field, our pest control RockBank are proven effective and safe. We use eco-friendly products with zero side effects and deliver the best pest control measures. With us, eliminating pests will never be about welcoming another problem into your home. Our services or the chemical we use will not harm you or your loved ones. So, do not take unnecessary risks when it comes to your living spaces, and seek expert help from our professionals.
Ours is a friendly team of pest control professionals who will work around your schedule and offer tailored solutions. We understand that availing of residential pest control services in RockBank involves letting a stranger into your home. We work only with licensed and certified professionals to give you the necessary peace of mind. Once you avail of our pest control services, we will send the best team to your premises and have them undertake the work with utmost efficiency, professionalism, and dedication. We will employ innovative measures, adopt eco-friendly and pet-friendly pest prevention techniques and deliver sustainable solutions.
Commercial Pest Control in Rockbank
A commercial space crawling with spiders, rodents, roaches, or other pests doesn't offer a welcoming vibe. Suppose a potential customer visits, and the first thing they see is a rat running across the room or a spider hanging from the ceiling. In that case, it will create an unfavourable first impression and negatively affect your business. So, don't let these unwanted guests send all your hard work down the drain by availing of our pest control in RockBank. 
Due to pest infestations, commercial and industrial sectors risk losing money and reputation. So, a regular pest inspection or a pest prevention service is an investment that will secure your retail space against all the potential repercussions of a pest infestation. A commercial pest management professional will conduct routine pest inspections to detect pest infestations at the earlier stages and employ adequate measures to control the spread. So, partner with us and maintain pest-free working spaces throughout the year. 
List of Commercial sectors where we provide our best commercial pest control services.

Offices

Airports

Shopping centers and Restaurants

Factories and Warehouses

State government facilities

Hotels and Motels

Hospitals and Child care schools

Food manufacturing

Logistics and Transport

Nursing home

Retail shop

Gym & Theatre

Restaurant

Medical Centre

Pub and Café

Warehouse
Why RF Pest Management is a First Choice for Pest Control
Wondering why RF Pest Management is the preferred choice for countless homeowners and businesses in Melbourne? Here's what sets us apart and keeps our customers coming back for more:
End Of Lease Pest Control Rockbank
At RF Pest Management, we provide end-of-lease pest treatment services. We chose a knowledgeable and experienced worker and provide them with all the necessary equipment required to employ top-notch pest control measures. Before leaving the rental property, a contract must be completed to cover the expense of end-of-lease pest management. We deliver the best end-of-lease pest control in RockBank and sign up all our clients for a satisfactory experience. Contact us for more information and a free estimate. We follow a competitive pricing policy, so with us, you will find the best assistance at the most affordable prices.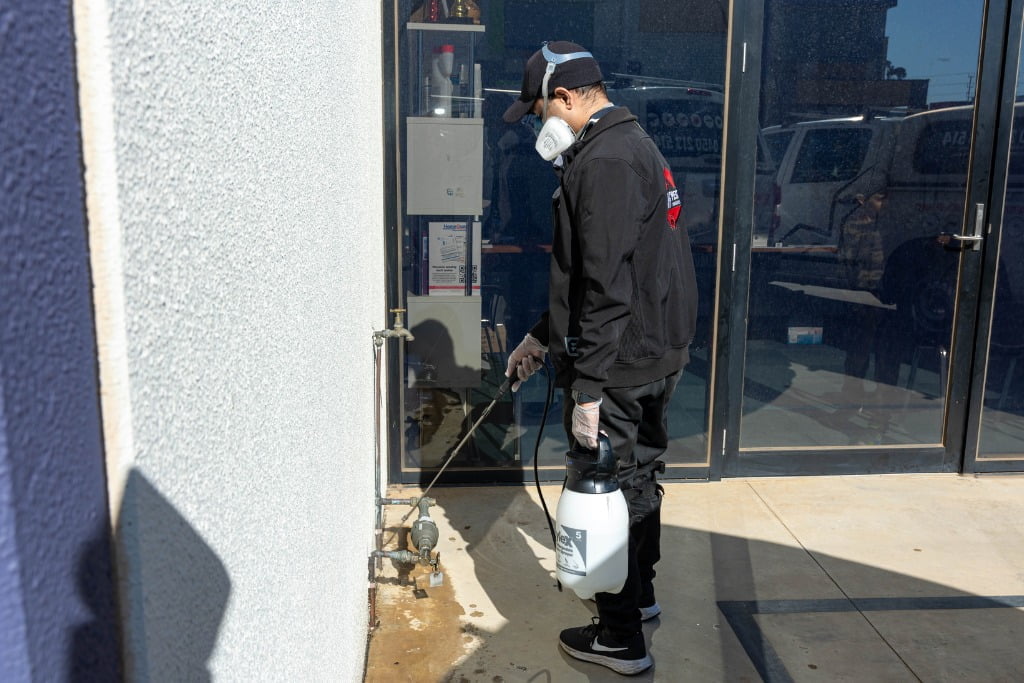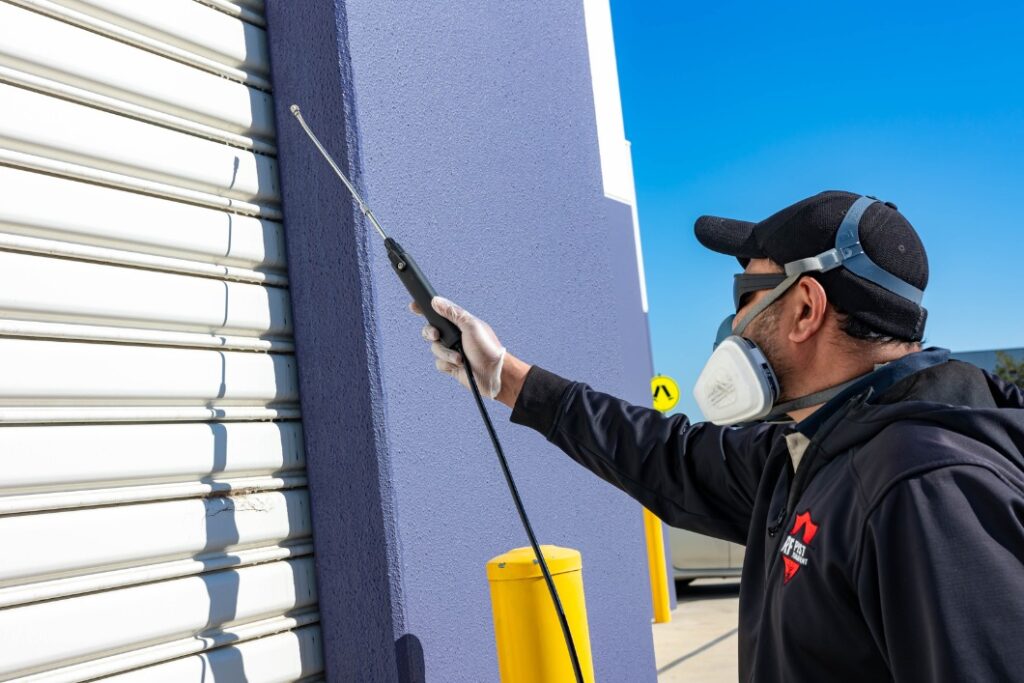 Certified Experts for termite control
Although there are several pest control treatments available out there, they only provide short-term termite control and extermination. Ours is a knowledgeable and experienced team and will be quick to detect any signs of termite activity in your home or place of business. Based on the results of the assessment, we provide a range of termite treatment alternatives in Rockbank. We will deal with the current infestation and stop the spread of any resultant illness and structural damages. Contact us right now for the best termite removal services, free quotes, and assurances!
Our Process of Pest Control
Consultation for Pest Control
Consult a specialist right away if you see any indications of a pest infestation.

Site Inspection and Evaluation
A member of our Point Cook pest control team will do a comprehensive assessment of your property to identify the kinds of pests that are there, the extent of the infestation, and the locations of all access ways, feeding areas, and breeding grounds.

Pest Prevention and Control
Our pest control options are customized to meet your unique requirements. Any type of pest control in Point Cook may be carried out by our team of experts since they are qualified and licenced.

Report on documentation and pest control
After completing the pest control procedure, our staff will provide you with a report explaining the degree of the damage, and show you how to avoid having them invade your property again.
Best Pest Control Rockbank After Care
Let's look at what you must do following the completion of the pest control service in Rockbank.
Comprehensive Pest Control Assistance in RockBank
At RF Pest Management, we will cover all your pest control needs. Whether it be a rodent, ant, termite, cockroach, bug, flies or flea infestation, we will use the most effective control measures to rid your property of these undesirable pests. A pest infestation can be pretty troublesome.
So, secure your property against it all with our pest control services in RockBank. We have serviced diverse clients with pest treatment and control measures for years. We have undertaken projects of all kinds and can eliminate even the widespread pest infestations. So, if you encounter a pest infestation at your property, there's no need to worry. Pick up your phone, call us, and our experts will be at your doorstep with the required assistance. We know pest control measures should be administered as quickly as possible to limit the spread and damage caused. Therefore, we work round-the-clock and guarantee on-time delivery of services.
To learn more about our pest control in Rock Bank, contact us at 0450 213 514 or info@rfpestmanagement.com.au.
Quick pest control inspection
Have a trained professional pest inspector thoroughly check your property and offer treatment suggestions for any pests they uncover. Residents of Rockbank may benefit from our quick pest control inspection services. Place your examination order now!
Pest Control Services Rockbank
Call us on 0450 213 514 Same Day Pest control Services
Location: Rockbank, Australia.