Tarneit Pest Exterminators
Local family business protecting your family
Complete The Form Below And One Of Our Experts Will Call You Back
Professional Pest Control services in Tarneit
Do you want to get rid of pests in your home or place of business? RF Pest Treatment is a team known to deliver expert pest inspections and pest control services in Tarneit. We offer a thorough job and guarantee the complete elimination of pests from both residential and commercial properties. At a modest cost, effective pest control options are available.
We will reply swiftly to your pest eradication service request. We make every effort to return your property to you pest-free as soon as possible. We'll do a pest inspection to figure out where the infestation came from and how bad it is. We'll create a treatment plan tailored to you, combining cutting-edge technology with ecologically friendly practices. Contact us right now for the best quotation!
Are you looking for an affordable pest control service in Tarneit? The firm to contact is RF Pest Management. Give us a call, avail of our pest prevention service and secure for yourself and your loved ones an insect-free environment in Tarneit and the surrounding regions. You can contact us for comprehensive home or business pest control solutions.
Expert Assistance For all Your Tarniet Pest Control Needs: Prevention, Control, Treatment!
When it comes to pest infestation, timely assistance is of key importance. The longer you wait, the further the infestation will spread, complicating the pest control process. So, when you begin to notice rodents, cockroaches, spiders, etc., in different corners of your property, do not hesitate to call our pest control in Tarneit. Other than regular pest sightings, some common signs of a pest infestation include the following:
All of these signs point towards a pest infestation. The pests might be hiding behind the cracks and crevices of your property, making them difficult to track, but if you keep your eyes and ears open, you can identify them sooner than later. If you think there is a possible pest infestation at your property, give us a call and rest your concerns with our expert team. We will deliver the best pest control services in Tarneit at the most affordable price.
Residential/Home/House Pest Control in Tarneit
Despite their potential advantages, DIY methods cannot guarantee the complete eradication of typical household pests. Homeowners could get alarmed as an infestation grows over time, from a little nest to a large one. In addition, not all pesticides and herbicides are beneficial. Because utilising chemicals without a licence might be damaging to the environment and people's health, the way they are handling it will only make matters worse. Residential or home pest control and pest prevention methods are essential for your family's safety and the protection of your property.
Commercial Pest Control in Tarneit
The commercial and industrial sectors of Tarneit may lose money and their reputation due to difficulties with pest management. If you are the owner or manager of a Tarneit business or commercial structure, this may even be more important. Protecting your money source is essential. To do this, a commercial pest control specialist performs regular pest inspections and pest prevention services.List of Commercial sectors where we provide our best commercial pest control services.
We cover all commercial or industrial properties under our pest control services. So, whatever the requirement may be, we will be sure to deliver on them and provide you with a satisfactory service.

Offices

Airports

Shopping centers and Restaurants

Factories and Warehouses

State government facilities

Hotels and Motels

Hospitals and Child care schools

Food manufacturing

Logistics and Transport

Nursing home

Retail shop

Gym & Theatre

Restaurant

Medical Centre

Pub and Café

Warehouse
Why RF Pest Management is a First Choice for Pest Control
Wondering why RF Pest Management is the preferred choice for countless homeowners and businesses in Melbourne? Here's what sets us apart and keeps our customers coming back for more:
End Of Lease Pest Control Tarneit
One of the top companies, RF Pest Management offers an end-of-lease pest control service in Tarneit. To ensure the quality of the work, we selected a qualified and experienced worker and provided them with the best resources. A contract must be signed in order to pay the cost of end-of-lease pest control before you vacate the rental property. At RF Pest Management, we strive to provide the best end-of-lease pest control Tarneit service to all of our clients. Contact us for further details and a free quote. We offer this solution at a very reasonable price.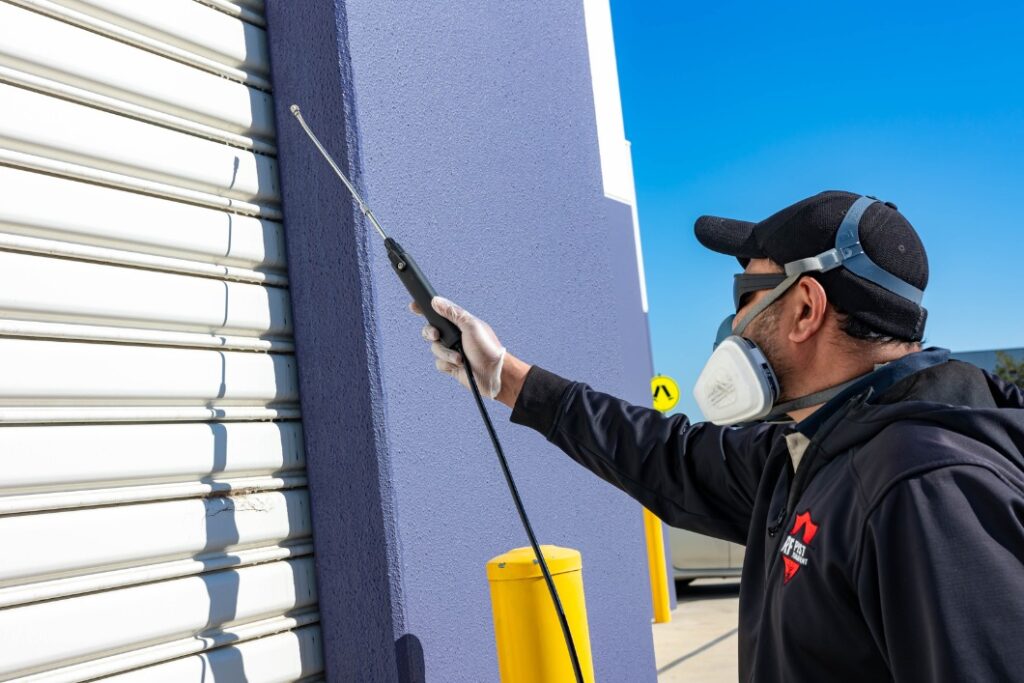 Certified Experts for termite control
There are several hazardous pest control products readily accessible, but they only offer temporary termite control and elimination.
Our team of professionals has a wealth of experience and understanding. They constantly search for indications of termite activity in your house or place of business. We provide a variety of termite treatment options in Tarneit based on the findings of the examination. We take care of the present infestation, deliver effective pest treatments and halt the disease's spread.
.
Get free quotations and commitments as well as the best termite removal services from us right away!
Our Process of Pest Control
Consultation for Pest Control
Consult a specialist right away if you see any indications of a pest infestation.

Site Inspection and Evaluation
A member of our Point Cook pest control team will do a comprehensive assessment of your property to identify the kinds of pests that are there, the extent of the infestation, and the locations of all access ways, feeding areas, and breeding grounds.

Pest Prevention and Control
Our pest control options are customized to meet your unique requirements. Any type of pest control in Point Cook may be carried out by our team of experts since they are qualified and licenced.

Report on documentation and pest control
After completing the pest control procedure, our staff will provide you with a report explaining the degree of the damage, and show you how to avoid having them invade your property again.
Best Pest Control After Care
Let's look at what you must do following the completion of the pest control service.
With Us, Live and Work Unbothered by Pests
The DIY pest control solutions you might employ only make up for a temporary solution, eliminating only those pests that roam out in the open. But if you are looking for a thorough job to secure a pest-free zone, you must avail yourself of our professional pest control services. Pests are good at hiding, but our team is good at finding those hiding spots and eradicating them from the root. We begin our pest treatment with a basic inspection; we will identify the extent of the infestation, measure the spread, and formulate an effective pest control plan.
Our team has the experience, skills, knowledge and dedication required to deliver quality pest control services. We work with utmost care and professionalism, delivering satisfactory pest control services on all levels. With minimal downtime and quick service delivery, we won't halt the normal functioning of your residential or commercial places for a long time. We will do a quick but efficient job so you can return to business quickly. You can schedule our pest treatments at your convenience. If you are a commercial property owner and wish to schedule your pest control in Tarneit before the opening hours or after the closing hours, you can share your requirements, and we will act accordingly.
Quick pest control inspection
Have a trained professional pest inspector thoroughly check your property and offer treatment suggestions for any pests they uncover. Residents of Tarneit may benefit from our quick pest control inspection services. Place your examination order now!
Pest Control Services Tarneit
Call us on 0450 213 514 Same Day Pest control Services
Location: Tarneit, Australia.