Werribee Pest Exterminators
Local family business protecting your family
Complete The Form Below And One Of Our Experts Will Call You Back
Professional Pest Control Werribee
Because RF Pest Management understands how important it is to keep a property free of pests and conduct regular building pest inspections, we provide a range of dependable, effective, and affordable pest control Werribee services. In addition to posing a threat to your health and safety, pests may make your homes and workplaces undesirable places to live.
You can count on us to perform efficient pest control treatment no matter what kind of pest infestation issue your Werribee home or business is facing.
Our commercial pest control werribee services are tailored to the particulars of your issue. This includes the degree of the infestation, the type of pest you are dealing with, the need for non-toxic pest management, and the extent of the property damage.
Residential/Home/House Pest Control in Werribee
Residential pest control Werribee and pest prevention strategies are essential for the wellbeing of your family and your home.
DIY methods can be beneficial, but they cannot guarantee the complete eradication of common house pests. Homeowners may get uneasy as an infestation grows over time, from a little nest to a large one. Not all insecticides and pesticides are ideal, either. Handling it in their manner would only make matters worse, and employing chemicals without a license might be bad for both the environment and human health.
Commercial Pest Control in Werribee
Pest control issues might cost Werribee's commercial and industrial sectors money and reputation. If you own or manage a business or commercial property in Werribee, this may even be more important. Protecting your money source is crucial. To do this, a commercial pest management specialist performs regular pest inspections.
List of Commercial sectors where we provide our best commercial pest control services in Werribee.

Offices

Airports

Shopping centers and Restaurants

Factories and Warehouses

State government facilities

Hotels and Motels

Hospitals and Child care schools

Food manufacturing

Logistics and Transport

Nursing home

Retail shop

Gym & Theatre

Restaurant

Medical Centre

Pub and Café

Warehouse
Why RF Pest Management is a First Choice for Pest Control
Wondering why RF Pest Management is the preferred choice for countless homeowners and businesses in Melbourne? Here's what sets us apart and keeps our customers coming back for more:
End of Lease Pest Removal service in Werribee
For residential properties and commercial buildings, RF Pest Management provides the most dependable end-of-lease pest prevention service. Our professional will arrive at your location and exterminate all pests from your property. Our crew is the finest since they are qualified and know how pests behave. The high-end output is observed when experience and talents are combined. After our services, there will be no bugs at all. Our totally competent, trained, and qualified pest controllers will never let you down when it comes to end-of-lease pest prevention. Before transferring the rental house, hire our pest removal experts to get rid of pesky critters.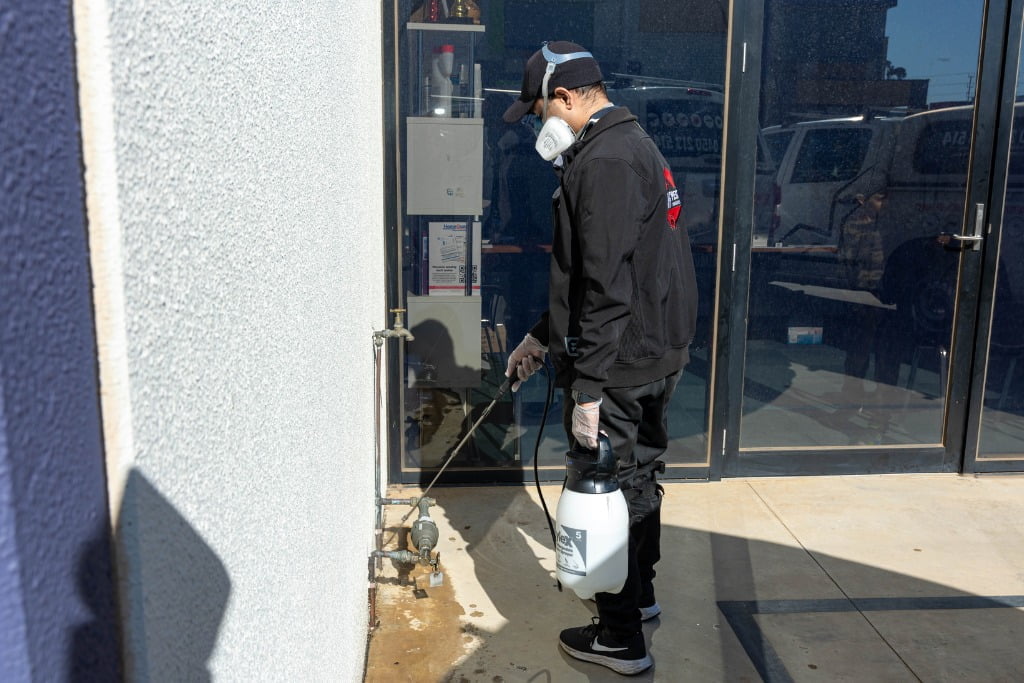 Certified Experts for termite control
There are several harmful pest control in Werribee products available, but they only offer temporary termite control and elimination.
Our technicians are a highly competent and informed crew. They are always searching for indications of termite activity in your house or commercial property. In Werribee, we provide a number of termite treatment methods based on the findings of the inspection. We take care of the present infestation and halt the spread of illness.
Get a free quote from us right away for the best termite removal services without making any obligations!
How Pest Infestation in Your Home Can Affect Your Health
Pest infestations can cause serious health concerns for you and your family. From triggering allergies and skin irritations to transmitting disease-causing bacteria and viruses, pests pose significant health risks. At RF Pest Management, we recognise the potential dangers of pest infestations. That's why our team is dedicated to providing effective and safe pest control in Werribee to eliminate pests from your home and protect your health.
Here are some potential health conditions that pest infestation can cause:
Ignoring a pest infestation can allow it to spread and increase the potential health risks over time. Our professional pest control services in Werribee can provide safe and effective solutions to eliminate pests, protect your health, and prevent the spread of disease.
Our Process of Pest Control
Consultation for Pest Control
Consult a specialist right away if you see any indications of a pest infestation.

Site Inspection and Evaluation
A member of our Point Cook pest control team will do a comprehensive assessment of your property to identify the kinds of pests that are there, the extent of the infestation, and the locations of all access ways, feeding areas, and breeding grounds.

Pest Prevention and Control
Our pest control options are customized to meet your unique requirements. Any type of pest control in Point Cook may be carried out by our team of experts since they are qualified and licenced.

Report on documentation and pest control
After completing the pest control procedure, our staff will provide you with a report explaining the degree of the damage, and show you how to avoid having them invade your property again.
Best Pest Control Werribee After Care
Let's look at what you must do following the completion of the pest control service.
Don't Let Pests Take Over Control - Call Us for Fast and Effective Pest Control in Werribee
At RF Pest Management, we understand how disruptive and stressful pest infestations can be. That's why we're committed to providing comprehensive and effective pest control Werribee solutions tailored to your needs. Whether you're dealing with rodents, cockroaches, ants, termites, or any other pest, our experienced technicians can identify and eliminate the infestation, providing a pest-free environment. Our team uses state-of-the-art equipment and effective pest control methods in Werribee to efficiently eradicate pest infestation from your premises. We offer:
Additionally, we provide follow-up services to ensure complete pest problem elimination and prevent future infestations.
So, whether you need a one-time pest treatment or ongoing pest control in Werribee, we are here to help. Contact us today to schedule an appointment for reliable pest control services in Werribee and enjoy peace of mind knowing that your home is safe from unsightly pests.
Quick pest control inspection
Why take a chance when purchasing a new or pre-owned property? Have a licensed and knowledgeable pest inspector thoroughly check your house and offer treatment suggestions for any pests they discover. Our rapid pest control inspection services are available to Werribee residents. Place your inspection order immediately!
Pest Control Services Werribee
Call us on 0450 213 514 Same Day Pest control Services
Location: Werribee, Australia.